#YesWeCode Chat 35
Topic: An Inside Look At What It Takes To Get Into A Startup Accelerator
1/31/16 at 8pmCT
Special Guest: Janel Alexander from Power Moves Nola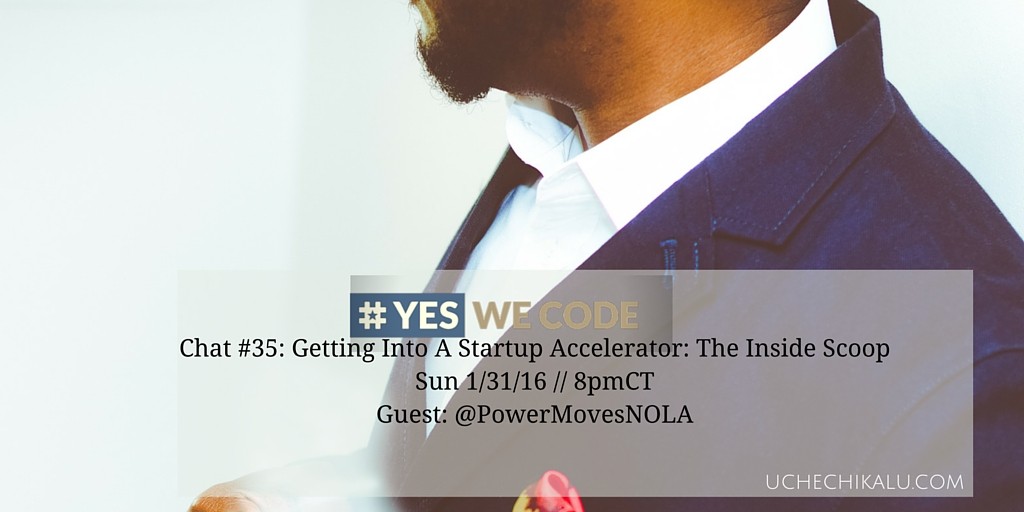 So you've built your tech product, gotten it out there to customers and now you're seeing some traction and your really want to scale and go big. Or maybe you just have an idea and your need the right people to help you understand what to do next and how to get to your MVP?
Throughout the world, startup accelerator programs are providing this kind of financial and mentorship support and seeing companies go from startup stage to sustainable growth. But, how do you get in to these programs? What's the secret and what are they actually looking for?
This week, I want to help you answer some of these accelerator related questions and bring in some experts. We'll talk to Power Moves, a minority-focused national accelerator and fellowship program based in New Orleans but with a presence in Detroit, Atlanta, Miami and more cities every year.
Sunday, January 31st at 8pm CT, we are speaking with Janelle Alexander from Power Moves about what her program looks for in startup founders and how you can use this information to help you the next time you're applying. Power Moves helps high growth tech founders via a year long fellowship, initial funding, office space and mentorship.
Some of our talking points:
• What's the most important criteria for accepting applicants? • What are some myths about accelerator programs and what it takes to get in? • How important is "traction" and how does Power Moves define that? • Why did you decide to expand nationally, and what cities are next on your list?
Looking forward to chatting with you Sunday, January 31st at 8 pm CT to talk about "Getting Into A Startup Accelerator: The Inside Scoop" with @PowerMovesNola on #YesWeCode!