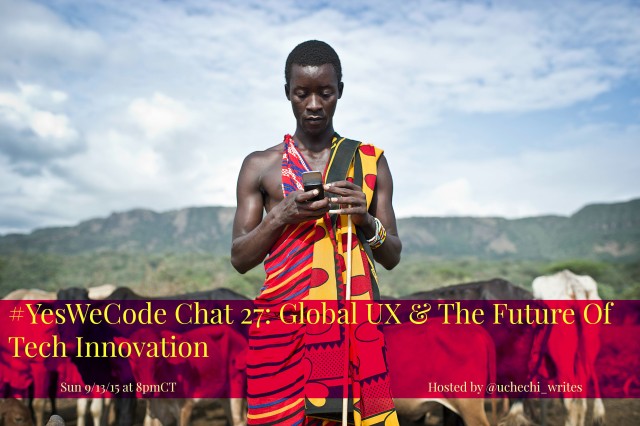 This week, Apple announced the new iPhone release for later this month. Around the world, customers will line up in Mexico City, Lagos, Lisbon and Manila to purchase Apples latest artistic release.In a world that has more mobile phones than toilets, it's clear that global ad diverse customers make our products more profitable and valuable.
Isn't it time we represent our world not just as consumers, but also as creators?
As tech innovators, how do we create user experiences that factor in the needs, desires and worldviews of global population?
Do we have a responsibility to innovate with a focus on global user experiences?
I think we do! As a UX Designer, I'm always thinking about how my Nigerian, American, Swedish, Mexican and Jewish family engages with the products I create.
How do I factor them into my design process?
The conversation about diversity in technology often centers around bringing diverse ideas to the table for the sake of inclusion, but the need for inclusion goes beyond fairness and equality. It also allows for better user experience, better design and more innovative products.
Stepping outside our comfort zone is not only necessary for self growth, it's also good (no great) for business. The future of technology will focus on creating products for the more than 7 billion people in the world (4.5 billion have mobile technology) who look like less like the 19 year old white male Stanford grad and more like a kaleidoscope of ethnicities, languages and cultural contexts.
We are the answer to the question, "who will be best positioned to come up with products and services that will win in the global market."
I think it's time we make sure global centered UX is at the core of our tech diversity conversations and design innovation.
Questions to think about:
What does global UX mean to you?
Do you practice it?
How has it impacted your design experience and perspective?
As consumers, how would global centered design impact your user experience of a product?
As creators, do we have a responsibility to "think globally?"
As outsiders, do people of color have an advantage in the global market of tech products?
If so how can we promote that?