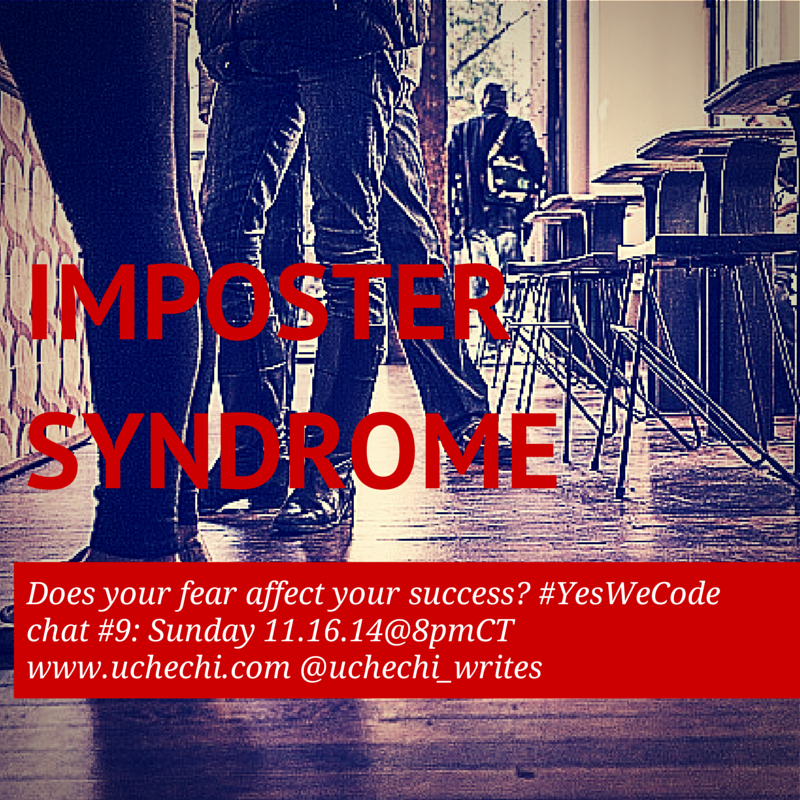 Hope you can join the next #yeswecode chat this Sunday (11/16/14) at 8pmCT. We'll be discussing fear, it's impact on our work and how we can move forward anyway.
The fear of being wrong can affect your success
This week, I was in the Bay Area for the WedTech conference, and while there I visited a long time friend of mine. We sat in a great Oakland coffee shop, sipped lattes and spoke about our hopes, our work, the lives of two very creative women.
Towards the end of our conversation, she mentioned that she's often afraid of being wrong, and how that gets in the way of her success. I immediately thought about how at some point in all our lives, we all deal with insecurity. But, what happens when it stops us from becoming successful.
Imposter Syndrome is a real issue
At some point in our lives, the fear of being "found out" aka Impostor Syndrome, is a real issue. I want to bring this conversation to the tech space because I believe all of us are capable of being more than just good. We're actually capable of being great, and doing so has nothing to do As we talk about tech diversity, it's important to remember that we all show up with some insecurity. Are you worried that you're not good enough, smart enough, savvy enough, capable enough? How does this worry affect your work?
#Yeswecode chat #9 questions to think about:
How does the fear of being "wrong" get in the way of your success?
If you could let it go, what would that look like?
What are some unique ways you deal with/work through feelings of Imposter Syndrome?
Once you get that dream job in tech, what's your plan on how to make the most of it in the face of your fears?
Why is this conversation important? 
I hope you can join the conversation. Before joining the chat please review the guidelines, which will answer some questions and help you know how to best participate. It's important to the tech inclusion dialogue, especially because I really do believe that while access to tech skills is an important piece of tech diversity, there's also a need to address the internal challenges that get in the way of our success.