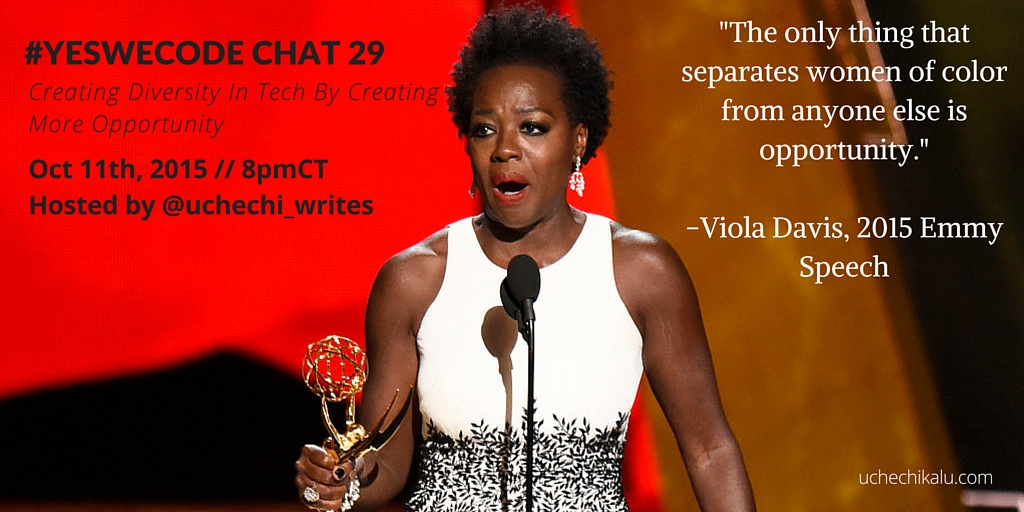 During this year's Emmy Awards, Viola Davis gave a speech that was both moving and personally resonated with me. After winning the award for best actress in a television drama, she said:  the only thing that separates women of color from anyone else is opportunity. You cannot win an Emmy for roles that are simply not there. Oh, that last line struck a chord!

For me, her words struck a chord. I have always been openly passionate about why I believe diversity in technology is not only good for business (more global creativity leads to products that serve a global world), but also good for shaping the conversation around opportunity and access in the tech world.
During her speech, I was also struck by the talent of the women nominated beside her, especially Taraji P. Henson in her short clip from Empire, her hit show.  I decided to see f binge watching Empire, the new hit show featuring Taraji P. Henson and Terrence Howard. And I'm hooked. The show centers around the story of Howard and Henson, an ex married couple who also run a record label empire together. What I found most astounding was how riveted I was by both of their performances. They've always been great actors, but the opportunity to be featured in roles where they can shine really allowed me to see their gifts.
Does Viola Davis have a point? As a tech entrepreneur who's been bootstrapping my company, I am left wondering how much of the difficulty for underrepresented communities in technology has to do with access to opportunity. After teaching tech skills, how do we create opportunities for all of us to show those skills?
Now, don't get me wrong. I believe we each have a personal responsibility to handle our business and that luck is about being ready when an opportunity comes, but what happens when we've prepared ourselves as much as we can and we just need an opportunity to break through?
A few questions to think about:
What are some missing opportunities for underrepresented tech entrepreneurs?
After you've done as much as you can to prepare for opportunities, what can you do to move forward?
What can tech cities do to create more opportunities?
How can we address this issue without being accused of wanting special treatment?