7 Ways An Arts Background Gave Me A Competitive Advantage As a Tech Entrepreneur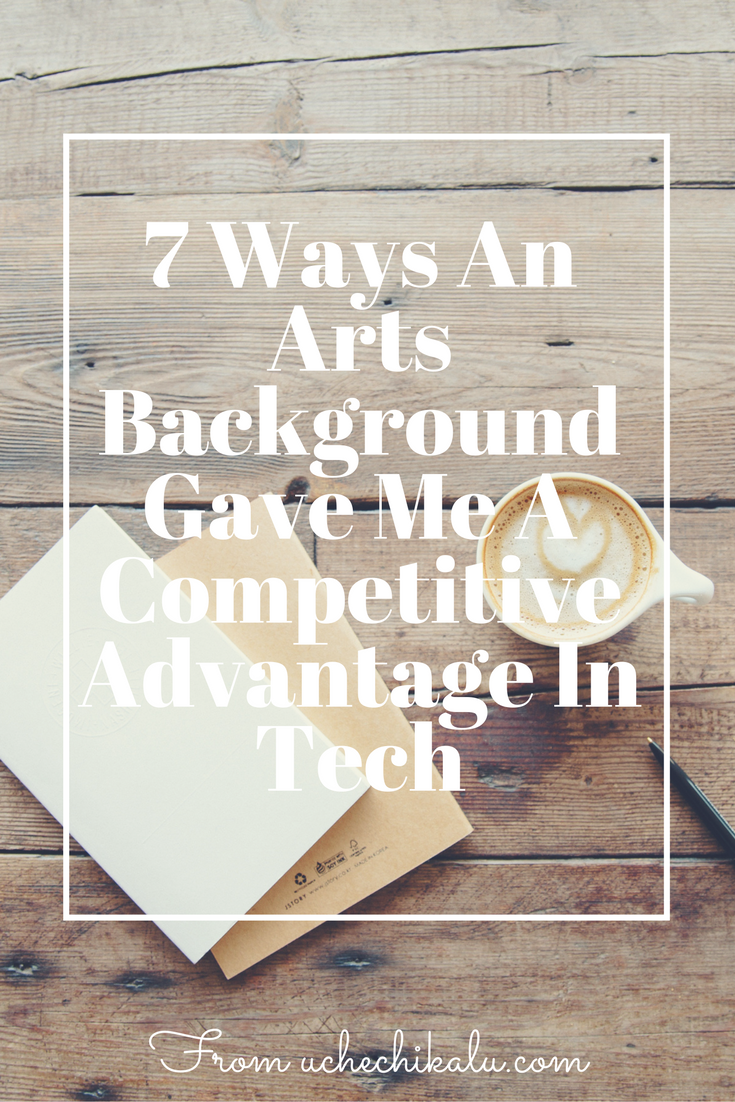 It's National Arts and Humanities month, and I couldn't think of a better way to celebrate it than share my story about how art and technology connect.
Last year, I wrote about how I went from poet to UX Designer (link here), but this month I'm more interested in sharing just how my arts background actually enhances my work.
We often hear about classes you need to take to transition from a tech career and coding academies you should be part of. There are amazing organizations like Code Academy, Hack the Hood, Black Girls Code and Yes We Code that are focusing on training the next generation to be great coders.
Learning how to code and design are all great and part of the conversation, but looking at things through the lens of art can also enhance your work.
1. Love and understanding of language
My background as a poet gave me a love of language. And it is this love of language that took me to content writing and then to content strategy. By being immersed in language, playing with it, understanding its rules and learning how to master it, I'm able to be an effective content strategist.Appreciation for Global World Views
As a UX Designer, I'm always thinking about my users. How will they interact with the software? Are they using it on a mobile or desktop device? What pain points are they struggling with? How will my product solve this issue?
2. Seeing Design From A Global Perspective
Studying the arts and humanities really helped me see things from different perspectives. In college, I was fortunate to study with the late poet June Jordan, who had us reading everything from the Koran to Buddhism and Confucianism. Doing this gave me an appreciation for global users and really allows me to think beyond the US as a focal point when I'm designing user experiences.
I like to think of myself as a Global UX Designer, which means I'm doing my best to factor in how the world beyond me might use the digital products I create.
3. Ability to tell a good story
Before you knew me as a tech entrepreneur, I was an Artist-Entrepreneur (and still am). I was a professional poet, which meant that I gave workshops, readings and courses. In doing so, I learned the power of storytelling. I found myself on stages and had the honor of speaking to people about my work. I read my own poems and actually got paid to do it (yes, there is such a thing as a sustainable artist).
3. Approaching UX from A Content Focused Perspective
When building a client website or app, I'm acutely aware of just how much the actual language I use impacts the user experience. If I'm creating a fitness app, do I say "goal" or do I say "score"? Do I say "good job" or do I say "nailed it!"? I'm referring to fitness apps here because I've been trying out a few lately and noticing how the language impacts my user experience.
As a UX Designer, I'm trying to help solve some major pain points for customers and I'm attempting to understand what they struggle with. In doing so, I need to "speak their language" more or less, and great design interactions have everything to do with choosing language carefully and consistently in accordance with your users' needs.
Understand language and figure out where and how to use it. Each micro interaction impacts your users in a positive or negative way.
4. Public speaking
As a startup founder and tech entrepreneur I often find myself on stages pitching wedOcracy. Coming up with a great idea is only part of the challenge. Afterwards, it's important to build your products, understand your users, find your niche market and focus on user acquisition. It also involves talking to investors and having your elevator pitch ready.
Being a poet and finding myself on stages around the country (and the world) has immeasurably helped me hone my speaking skills.
I realized that the tips and tricks to being a great spoken word artist are similar to what's needed to be a great startup pitch presenter. That's a post I still need to write, but for now understand that they both involve timing, voice projection and connection with the audience.
5. Vulnerability
I believe vulnerability is key to telling a good and compelling story. This doesn't meant that you (or your brand) have to reveal everything you did last weekend, but it does mean that your customers want to see and understand that you're human and that you also struggle. Think about these questions: What do you struggle with? What do your clients struggle with? How are you addressing that in your business?
Reading my own work on stage allowed me to be vulnerable, and to not run away from it. Trust me when I say that it's really scary, but then once you get comfortable being vulnerable, you get much better at telling your own story.
And once you can do that, you can get truly effective at telling your brand story.
6. Understanding the connection between emotions and good design
It's funny, when you think about design it's easy to conjure up images of great colors and typography. But the "why" behind the choices is what makes for a great products that your clients will use and love.
Focusing on the arts allowed me to always think about the feelings I was conveying through my writing. We were encouraged to get in touch with our feelings, read our poems aloud, cry through them and value our words as something that could give others permission to tell their stories.
Being able to get in touch with my emotions helped me attempt to understand my customers. What are they feeling? How can I help them solve this problem? What are their biggest stress factors when it comes to this issue?
In college I focused on creative writing and education, but I'm sure a psychology degree could also help you connect and tap into emotions. You could also take an acting class or attend (and perform at) a few open mic poetry events.
Conclusion:
Want to find a job in tech? Majoring in CS and Design is a great foundational start. I also believe that being able to empathize, be vulnerable, connect, understand the connection between language and emotions helps you design products that speak to the emotional needs of customers.
And even if you're already out of college, there are so many free and low cost online classes you can take. Or sign up for a local poetry class. The point is, we all want to feel loved, connected and engaged with our world. If you can make your clients and potential customers feel that way, then you're well on your way.
Now it's your turn? Any questions?
Uchechi Kalu is a UX designer, tech entrepreneur, public speaker and published poet. She believes artistic creativity and business savvy helps entrepreneurs take their work to the next level. She writes about the challenges and triumphs of making your dreams happen.